Adirondack Fly Selection: Best of the Classic Patterns – Emergers
Next up in our review of the best classic patterns for the Adirondacks of Northern New York – Emergers and Wet Flies.
---
Emergers / Wet Flies:
Soft Hackle Hare's Ear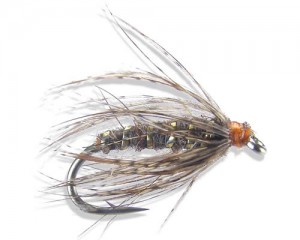 The texture and color of Hare's Ear has to be one of the best all-purpose materials around for imitating various types of aquatic life — particularly mayflies. The Hendrickson, March Brown, and Gray Fox are basically all covered with this one pattern, and who knows what else a trout may think this killer pattern resembles floating downstream. An absolute must-have emerger that works just about anywhere… especially in the ADKs.
March Brown Wet Fly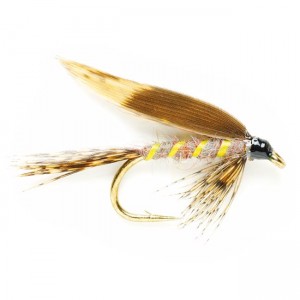 When March Browns are in the river, you'll not want to be on the stream without one of these. My father once hooked up on two trout at once by quartering downstream and swinging this pattern along the seams below him. His point fly and dropper both got some attention. This pattern can be tied with and without a wing… dad likes red thread and gold ribbing with his variation of this classic pattern.
CDC RS2 Emerger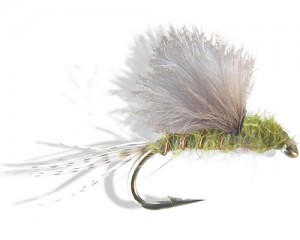 Such a simple but deadly emerger is the olive RS2. On an overcast June day in the Adirondacks, this might just do the trick for you. While it imitates many of the PMD variaties, the shape and coloring of this particular version of the pattern have proven to be especially deadly.
Caddis Emergers
While just about ANY caddis imitation will do when their out — there are two specific types of caddis emergers that have worked very well over the years in the Adirondacks:
1. La Fontaine Sparkle Caddis
2. Caddis Poopah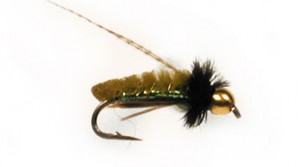 Shark's Caddis Larva
Simply one of the best caddis larva imitations around, and my father swears by it. He ties his versions with and without the bead depending on the depth he's looking to target. Often his go to pattern when there's no discernible hatch, it's the middle of the day, or we happen to be fishing a long, wide, non-descript run on the Saranac River for example. Trout seem to come from every nook and cranny of the stream to inhale this pattern. Look at the picture from Global Fly Fisher, can you blame them… it looks real!