Adirondack Fly Selection: Best of the Classic Patterns – Dry Flies
Have you gone through your fly boxes yet? I know I have, and some patterns I just never get tired of looking at, tying, and fishing with. The "classics" I'll call them…
Everyone that has taken up fly fishing is familiar with certain "classic" patterns that tend to get the job done time and again, year after year, and seem to be accepted by trout just about anywhere you fish for them.
In the spirit of spring being just around the corner — here are some classic dry flies that will do the trick on your next trip to Northern NY, and hopefully get you thinking about replenishing your fly boxes for this coming season:
---
Dry Flies: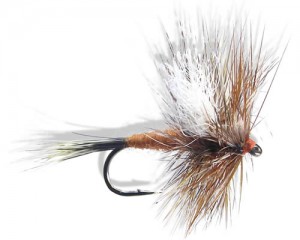 Ausable Wulff
As far as mayfly hatches go, the Adirondacks have a full season of diversity in store for the fly caster. But just before dark in your favorite stretch of pocket water on a Northern New York river, I would rather have an all-purpose Ausable Wulff on the end of my line than anything that might match the hatch. Fran Betters developed his signature fly for the boulder-strewn pocket water of the West Branch of the Ausable river for several reasons: it floats high through the riffles and pockets, it has a very large profile, it's highly visible, and largest trout in a given section of water seem to rise for this fly when matching the hatch fails to produce them. I can't tell you how many beautiful Adirondack trout have taken this fly at dusk when nothing else seemed to be worth the trouble. The Ausable Wulff is a classic for more reasons then after the fame of its namesake — the pattern itself is tremendous.
Green Drake
Quite like the lessons given to us by the Ausable Wulff, large trout seem to like dry a fly that has a large profile in the Adirondacks. The largest and arguably the most prolific hatch of any in the Adirondacks is the Green Drake hatch of northern New York. In 2 weeks time, if you catch it right — large trout all over the area go nuts for this particular hatch because the flies themselves are so huge… you just know the fish are getting their meals worth when the Green Drake hatch is on. Last June at Papa Bear's Adirondack Retreats, there were some Green Drakes sporadically hatching the same afternoon I got to the property. Long story short, I was able to hook a 20″+ Rainbow Trout on a Green Drake that WOULD NOT come in. It was by far the largest trout I've ever had take a dry fly… and other than nymphs and streamers that was the only 18″+ fish that I remember coming up for a dry fly, although I caught several browns and brookies on dry flies the following evenings. But as for the large bow, the Green Drake is what selectively brought it to the surface without a doubt in my mind. If you're coming to the ADKs in June, don't come without a few Green Drakes stocked in your fly box.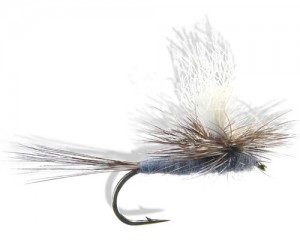 Parachute Adams
Just because it's a variation of the most famous all-purpose pattern ever developed…. and if you happen to run out of Isonychia parachutes this pattern will imitate one quite well for you.
Goddard Caddis
Where any old caddis dry fly pattern might do — I prefer to throw on a Goddard. And quite like the lessons given to us by the Ausable Wulff and Green Drake, large trout seem to like a fly that has a larger profile in the Adirondacks. And unlike other caddis imitations, the trimmed caribou body can easily handle the fast riffles and pockets of the Adirondack rivers without issue… almost like a cork. The Goddard Caddis has been my go-to caddis pattern for years because it's one of the most dependable, all-purpose colored dry flies in my box. I highly recommend it for your favorite stretch of ADK river.
Rusty Spinner
At night during the spinner fall, few patterns are going to be as effective when only matching the hatch will do. The coloring of this fly will imitate so many different kinds of mayfly spinners that you'd be at a disadvantage without at least a couple in your box.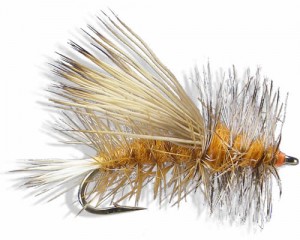 Stimulator
And now for the last of the big three, stone flies. You simply can't go wrong with a yellow/orange stimulator during the summer months in the Adirondacks. Even if there's no stonefly hatch going on… well they don't call the pattern 'stimulator' for nothing.
So that's the list of my favorite classic dry flies that will certainly do the job for you on your next trip to the Adirondacks… make sure you have them stocked and ready for your next trip.
Want more info? Check the ADK Hatch Chart, loaded fly box, and other featured articles for more.
Tight lines!
[images via Dream Drift Flies]
One response to "Adirondack Fly Selection: Best of the Classic Patterns – Dry Flies"