April 2012
Now were starting to cook up here. There is an absolute explosion of life and activity up here. The insects are going crazy as they commence their brief life cycles, the eggs of the birds are now hatching coinciding perfectly with the hatches.
Meals ready to eat are flying around at a steady pace and the fledglings are gorging on them.With the water temps now holding in the 60 degree range the trout are putting the feedbag on something fierce. This is magic time for a fly fisherman and being up here on one of our picturesque mountain streams will make up for all those crazy hours you put in or the insane commutes you endure each day. You can feel the stress evaporating away as you are enveloped by the positive ions emitted by the rushing waters. They claim on TV that a bracelet can do this also but I'm not buying it, like the song says " ain't nothing like the real thing baby". These water temps combined with manageable water conditions in conjunction with golden yellow wild trout are the fantasies of a trout fisherman brought to life.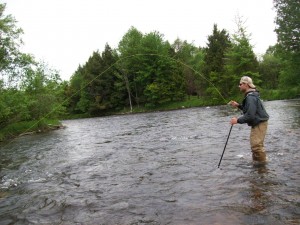 New York is blessed with an incredible amount of recreational opportunities and in June they are all coming into play. Many of us avid fishermen fancy ourselves as pretty good golfers also to help further boost our overinflated egos. Well then I highly recommend a round at the Malone Country Club to let the air out of your balloon and serve you up a good sized slice of humble pie. Here we are in the middle of cow country, surrounded by venues that involve snow most of the year, trout streams stuffed with fish, biting insects the size of hummingbirds and here sits this 36 hole gem of a gold course. This is a Trent Jones/ Donald Ross design, built in 1909, that is a brute and will challenge even the most skilled golfer. How nice, trout fishing in the morning, 18 holes midday and back to the evening hatch. Life is good here in the mountains, come join us for a while.
Read more