You have to be ready for a plethora of weather and water conditions here in this beautiful part of New York State. In April this is doubly so and this week is a perfect example of this. Monday 4/16 it was 80 degrees and this weekend the forecast is wet, raw with snow, possibly heavy. Most years there is a lot of snow in the deep mountain valleys well into May, last year into late June, this year none. I actually had to mow the lawn for the first time ever in April this year!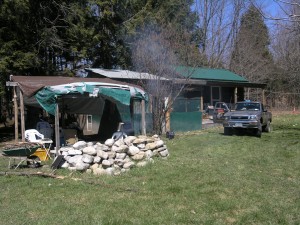 Even though this weekends weather will be more typical for this time of year I see this as an early year and if we get steady, intermittent rains it could be an amazing year for trout fishing. The beauty of my location here is that we are not only located right on what I feel is the best river for large wild trout but we are within an hours drive of a half dozen other major flows and many smaller streams that are almost as good. These rivers cover a wide spectrum of gradient and terrain with the result being that we can offer quality fishing opportunities no matter what Mother Nature has served up. I feel that this region of the state offers you a really good chance of catching a trophy freestone trout.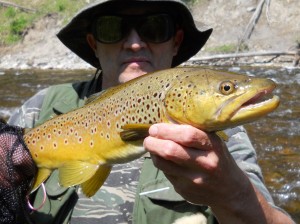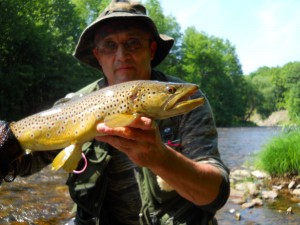 My friend Mark caught 4- 20 inch browns in a single day last year. Now I am not saying you are going to catch them like crazy in April but they are here and I seem to catch some of the biggest ones in this early part of the season. These big ones are coming off the winter period and know how to eat. The picture of Tom the dentist is a classic example of this. It was Easter weekend, snow was in the air, water temp was 41, air temp 39, I told him I had a savage attack just below the camp when I had arrived there the day before and that I thought he should throw one of Rich Garfields (flyfishtheadirondacks.com)  sirloin streamers into that spot. I watched him chuck that sirloin for a few minutes and went back to camp work. Several minutes later I heard screaming and an epic battle was under way. Several minutes later he subdued one of the most impressive trout I have ever seen here. The fish was over 22 inches with an evil head and  Hulk like overall body proportions, the fish reminded me of Mike Tyson. I had set up the camcorder ahead of time and captured most of the battle on film. As soon as I get the technology I will transfer it from 8mm to digital and post it on my you tube site,Papa Bear's Youtube Channel, and show you this classic footage.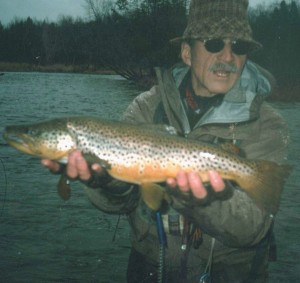 Video and photography are huge part of our theme here at Adirondack Retreats and we do our best to capture you on film as you catch and release these beautiful fish, thus leaving you with a lasting memory to show your family and friends. To sum it up, each year is different, usually tough conditions, but it is great just to be out there and you never know. My 40 years of experience fishing here will be used to its maximum potential to help you succeed.
Read more