January 2013
Click any picture to enlarge it. We have turned the corner to the start of a new trout season. Hopefully the snow pack in the ADKs will stick with us this year and allow for fantastic fishing all summer long. Last year things were terrible after June till late September. The trout fishing here in the northern part of New York State is as good as it gets just about anywhere without having to fly 10,000 miles to get too.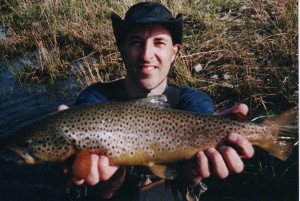 We are blessed with numerous flows of all sizes and shapes that allow for great fishing no matter what conditions mother nature has served up. Insect hatches here occur all day long and sometimes take on biblical proportions. The incredible bio-mass of these rivers and the swift flows equal hard fighting fish that are the realization of what fills our winter time dreams.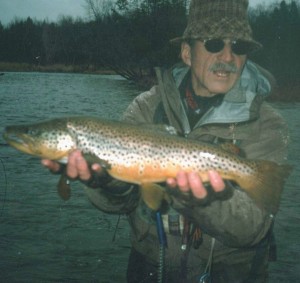 Even in the earliest weeks of the season huge trout are biting, not with the frequency of June but as with this 23 inch monster they are here and unlike hatchery fish they know how to eat. Even in hot summer months such as last Labor Day huge ones can be fooled.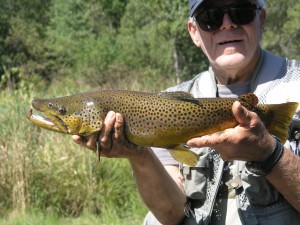 This 22 inch fish was the reward for a long hot day of fishing and the biggest one dad had ever seen in 60 years of fishing. Whether it be with me or anyone of the other knowledgeable guides and fishermen DO NOT put off a trip up here any longer.
Read more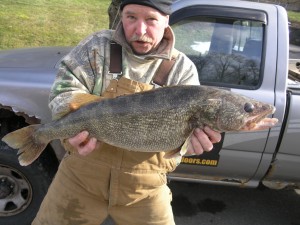 This is another fine example of the great fishing that New York State is blessed with. With the big snow melt we had the last few days the river had gotten quite swollen and off colored, just the way I like it for large fish. 28 degrees when I launched with a light NW wind made the river devoid of other anglers. For the first hour I plied the water with a jig and minnow to no avail, not even a lick, but I know this is big fish time and patience is needed. I now switched to a jig with a piece of cut bait and caught a 17 incher on the first cast. When the water is heavily discolored I just love using a 3 inch piece of belly meat. After I fillet the walleyes I trim off the strip of the belly meat that is left on the carcass. I then use an Exacto-knife to cut this into diamond shaped pieces and then put 5 or 6 into a ziploc bag with some water and freeze them. I always carry a bag along on each outing. Big walleyes like this are very canabilistic and this looks like a nice snack sized walleye. I kept fishing with the cut bait and started catching 7-10 inch walleyes and was thinking to myself " beautiful, the snacks are here and I bet old sow lips is nearby", everything just felt right. I caught another 17 inch fish and  then this hog hit. When I finally got her to the surface it looked like "Das Boat" as she surfaced. She measured out at slightly over 31 inches and weighed 11.25 #, one of the nicest ones I have ever taken out of the Susquehanna. Maybe one of the nicest things about this fish was that I got her while testing a new prototype of a stinger hook I have been working on. What a way to prove that the thing works. I also got a 43 inch Muskie using the prototype on Sunday, I am thinking that I may have this thing just right after 5 years of perfecting and testing.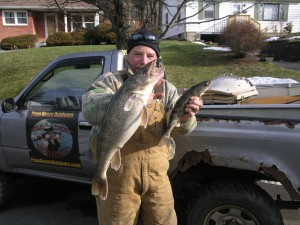 This is what a 17 inch keeper looked like in comparison. The Susquehanna River in NY is an incredible fishery and I highly recommend that you give it a try!!!  CLICK ON ANY PICTURE TO ENLARGE IT.
Read more