Bear Treks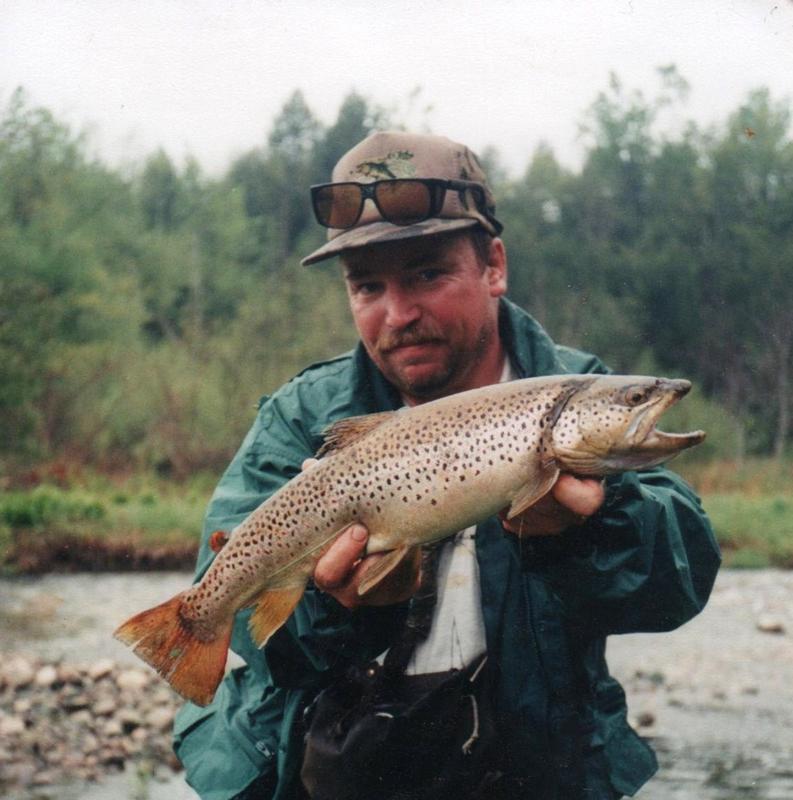 Hello fellow hunting and fishing aficionados, welcome to Bear Treks. This is my blog to give you useful and current reports on my own outings and information that has been sent to me from knowledgeable sportsmen that just might help you in your pursuit of fish and game.
Papa Bear Outdoors is my company based in Binghamton N.Y. I am an inventor of unique cutting edge products designed to make your precious time afield as successful as possible. This is also your link to some of the best wild trout fishing in the East if not the whole country.
---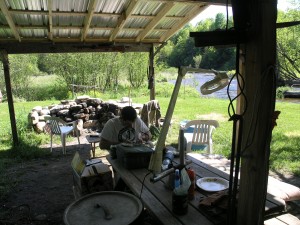 CLICK ON ANY PICTURE TO ENLARGE IT. What a great backdrop for Dave to tie flies as we wait for our guests to arrive. Dave has the passion for fishing and if he isn't fishing he is tying more flies to replace the ones he lost.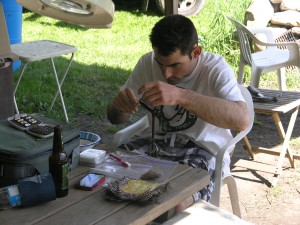 Tying stream side with the birds chirping. not to many biting flies attacking you and phenomenal mid May temperatures, perfect. CAREFUL Dave, the mother Barn Swallow that has taken up residence in one of my bird boxes is eyeballing those flies for when her eggs hatch.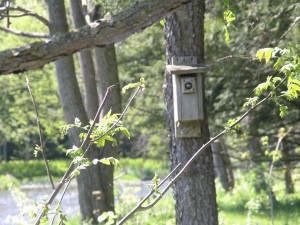 Dave is an expert nymph fishermen and on most of the rivers in our niche of the Adirondacks there is limited dry action due to the incredible bio-mass of insects. 90% of a trouts diet is nymphs. Up here the trout are more concerned with the many creatures that want to make a meal out of them and sipping dry flies is a good way to become a statistic.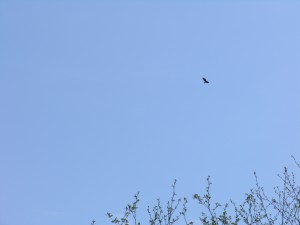 Folks this is real trout fishing up here and not some manicured stream or easy boat trip but rather this is wade fishing on wilderness rivers but the rewards come in golden inches. The fishing here is probably what it was like in the Beaverkill and Willowemac hundreds of years ago when fly fishing came to this nation.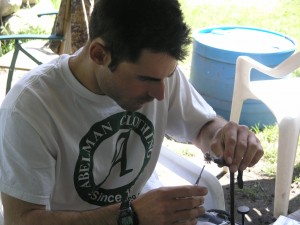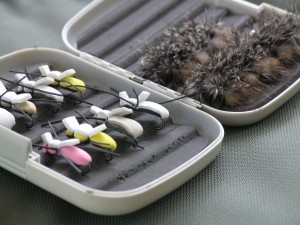 I have spoken with veteran fishermen on the legendary Ausable and they told me of the monsters to be found there in the 50s and 60s when it gained its notoriety and because of that and liberal bag limits they decimated the native breeders to the point where they have to stock monsters now. We are all about catch and release and we are doing our best to ensure that this never happens in our region, thank God attitudes are really starting to change and our DEC is actively realizing this. My goal is to see that the generations that follow will be able to enjoy this region much as we have.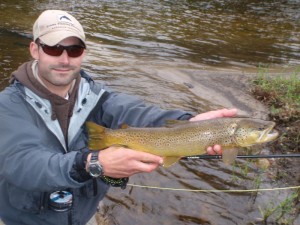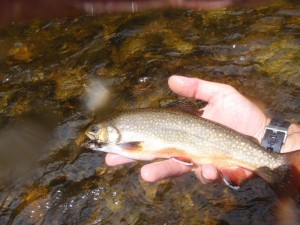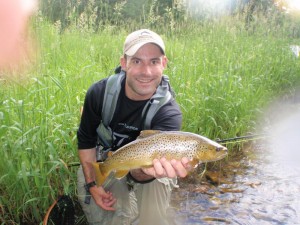 I also have a few pictures of the fish that Rich Garfield put his client into on Saturday. The fish was caught on a #12 hares ear, a popular early season fly and the reason we have so many rabbits up here with no ears. He said the fish was the biggest one he had ever seen in our river and it was so big that it would not fit in the net. He had to tackle it and pin it with the net. He will be posting pictures on his site  flyfishtheadirondacks.com. The fish was released and is waiting for you to come play with.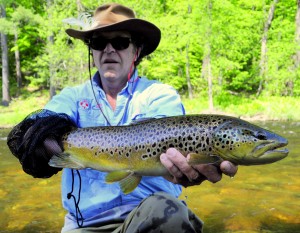 Fishing is great everywhere up here right now and use my resource page to find water levels, PFR rights and even road reports. I think it is going to be super up there this Memorial Day weekend, quite a difference from last year. Your friend in the mountains; Papa Bear!!!
Read more