At last good fishing levels return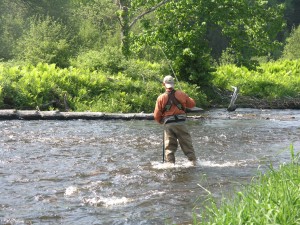 For the first time this year water levels have returned to levels where you can get a fly down without adding on a #2 split shot. The water temps were nearing the 60 degree mark and the results were amazing. In two weeks of these conditions my friends caught and released many wild browns with eight of them over 20 inches. This is all wading fishing for wild stream browns on freestone streams. All this on classic streams with the Adirondack beauty and nature surrounding you.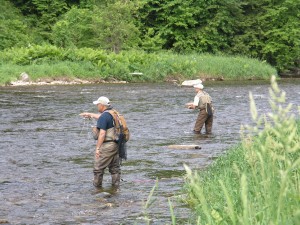 Biblical fly hatches on tough, rugged trout streams off all sizes and configurations are what you can expect in our remote part of New York State. These streams are stuffed with wild fish and the bigger flows will challenge every skill for a seasoned angler. The small streams are the perfect place to teach a young angler about trout fishing and success is all but a given. Nothing will foster a love of fishing like catching and seeing firsthand how beautifully colored these native fish are. The more I speak with world traveled fly fishermen, the more I realize just how good the trout fishing is up here. I love teaching youngsters about fishing and seeing the glow on their faces as they catch and release them. I will go out of my way to do this. This place is not about money but rather doing the right thing for those that follow, give us a call. We are open to all disciplines of trout fishing as long as catch and release is the end result, not everyone is a fly fishermen.
3 responses to "At last good fishing levels return"