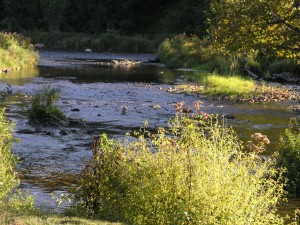 CLICK ON ANY PICTURE TO ENLARGE IT! Labor Day weekend and still the Adirondacks find themselves in the grip of the hottest summer on record. I had received a request from my master of the web to help out his college room mate with a trip for him and his father. With the unusually dry summer I had tried to wait for improved conditions but their and my time constraints were not looking good for later in the fall so I said lets get her done. They as much as anything wanted to check out the trout fishing community I am creating here. We met up at the last vestiges of civilization and I led them down into the magic valley.
They loved my stream side command bunker which is located at the center of this awesome trout fishery. Water temps were in the mid to low 60s and the water heights were a little better than I expected so I was hopeful that some fish might be willing to come out and play. Due to the low water dad decided to fish with his 2-weight and have some fun. The sun was super intense with the lowering angle and the water was crystal clear so I was hopeful at best. They had to work at it and we walked past a lot of water that is dynamite under normal conditions but some nice fish were caught.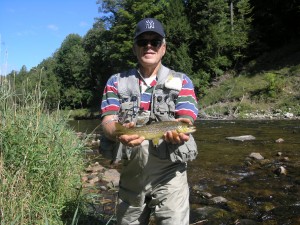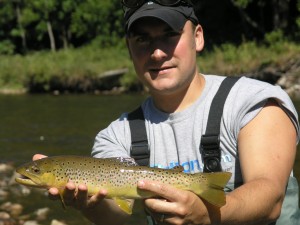 We concentrated on the biggest runs and I explained to them how these are 100% wild trout and how much they will migrate up and down the river system with the changing water conditions.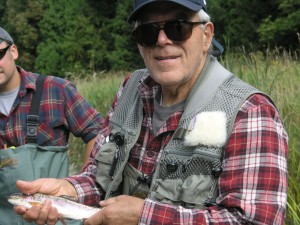 On the last day of their trip I told them I would work them up to the best run in the stretch and that this was one of the few spots that might hold a big trout under these conditions. We spent a good deal of time in this last pool of the trip and they beat the water into a froth but to no avail.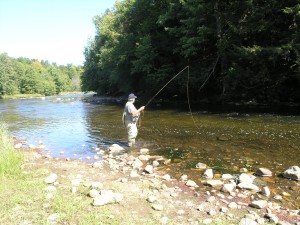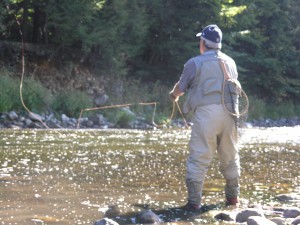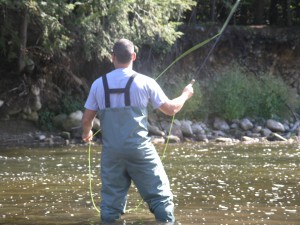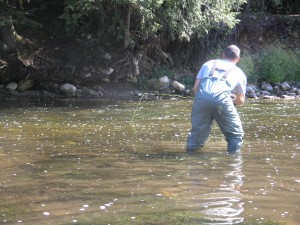 They said that they had had enough and it was then that I showed dad how he wasn't quite getting it down into that deepest part of the run and how the biggest fish would be concentrated on the bottom there. Then it happened, one of the monsters succumbed to this new presentation. This was the kind of fish that I had told them the river was notorious for and it gave dad all he could handle and then some. It all worked out and the Leviathan finally was brought to a net that was all of a sudden looking very small. The first words out of dads mouth were that's the biggest trout I have ever seen. Just what I wanted to hear from a trout fisherman whose career spans several decades. Needless to say this was the ultimate ending to a tough trip. The fish was over 22 inches long and had one of those evil hooked jaws that I just LOVE!!!! You can see why the brook trout in here are scared and nervous, here Vohn Behr is king. High fives, a brief picture session, a careful release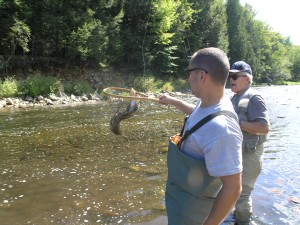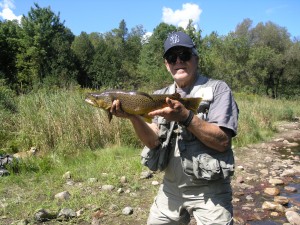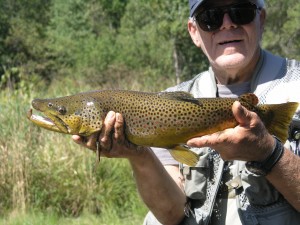 and the trip ended on that HIGH note. I love it when a plan comes together. This is the kind of fishing we do our best to deliver and while nothing is for sure it quite often works out this way!
Read more