Kon-Tiki launched and floating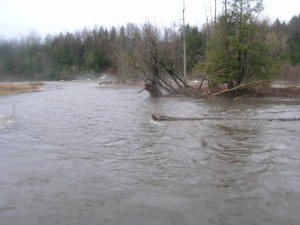 Heading north? forget it. I have just consulted with some of the best guides in northern NY and the the prognosis aint good. Not only are the streams smoking high but you may not be able to get to them. Now this may suck short term but the last weeks of the season may be outstanding with many fish running up on the high waters from their summer hide-outs. This is also going to accelerate the exploding runs of Land Locks out of Lake Champlain. This fishery is starting to come into its own and extends the season for the devout fly fishermen whom forsake the hunting to pursue their craft and these incredibly hard fighting Salmonids. As I said in my last post it may be one amazing fall of hunting ans fishing. The apple trees statewide are hanging low with the bumper crop and to an old buck with bad teeth they are like candy. The mast crop here in the center of the state is really good with some of the biggest beechnuts I have ever seen. Chanterelle Mushrooms are coming on like crazy and every scouting trip includes plastic bags to stuff with them. After this rain all varieties are going to go crazy. If I was doing any serious trout fishing right now it would be in the western part of the state. Wyoming County has some excellent streams.
TIP: I have in some years used this trick to lure bucks to a certain area way back in the woods where they feel comfortable feeding before going down to the fields. I love to find an area where I know good bucks are inhabiting which is usually thick and remote. I then look for nut trees and such within a hundred yards, just far enough away so that I can sneak in without them figuring out what I am and yet they will fee comfortable moving in the late afternoon. I set up a couple stands in good wind position and focused on several of these nut or apple trees. The trick is that in the spring I go back and take several of the big spikes used for feeding  trees in your yard and drive them in around the selected nut trees. Come the fall those trees will produce the sweetest ,biggest nuts on that area and the deer know it. Most farm and garden centers will have them. Hunting the Vermit deer is a year round assault and I consult with Bill Murry on a regular basis for some of these tips. I don't like hunting with him though because he keeps forgetting where he set up his Claymores.