Salmon season starting
I am getting fair reports of salmon in the Salmon River at Pulaski.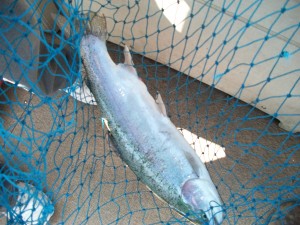 The word has been most of the fish are  in the 10-15# range which is a little on the small size for Kings. Traditionally these first runs are when the biggest ones are caught but so far that is not the case. If you have never made a trip up here for the fall salmon fishing then you should put it on your bucket list. When they are running hard it can get absolutely insane here. Hooking one of these silver monsters is the equivalent of hooking a pickup truck and they will test the drag on your reel to its limit. If you have never done this I HIGHLY recommend contracting the services of one of the many guides in the region. They will save you much time and frustration fishing for these silver submarines. This is Alaska type fishing right here in NY and a reasonable drive from most of the East coast. The runs tend to peak in mid-September-October. Right after that the steelhead commence their runs which go all winter but the best fishing is in November-December. Add in the big browns, some of which take on Frankenstein like dimensions and appearance, coming up to feast on salmon eggs and you have one amazing fall fishery. Go onto you-tube and there are some great videos of this fishing. Needless to say this fishing also attracts a lot of fishermen so be prepared for crowds. Take lots of pictures and if you have one take a camcorder, the videos from here can be priceless. If you want action on fish that you can't stop then you will love this. That is why I take my kids carp fishing all summer so that they will know how to deal with angry fish.
On the trout fishing scene the word is fish the western part of the state in that Adirondack streams are HIGH still but the north central potion along the border was somewhat spared. Once again use the link I have to the USGS site for water levels on your favorite flows. This link and other helpful information is found in my resources section.
Tip: Hire a guide!!!!!