Monster Muskies in the Susquehanna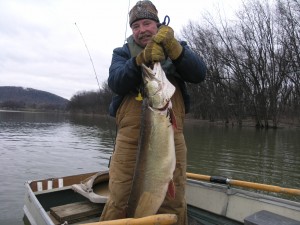 Christmas Day, all the presents were opened and happy children were playing with them. Above average temps and dad headed to the river. No one around and ideal water conditions for big Walleyes. On the fifth cast I had a good solid bite. 20 minutes later I had a 40 inch 15 pound muskie in the boat. 4 casts later I hooked into this beast. 40 minutes later I had this 45 inch beast in the net. Not what I was expecting but I wasn't complaining. I was using 6# line and one of my custom " Google Eyes Jigs".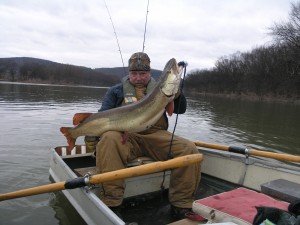 Here in the Susquehanna River, in the stretch from the PA border up to Vestal, NY, it is legal to keep the muskies during the open season for walleyes due to the presence of tiger muskies which have no closed season here in NY. Because of the difficulty of telling the difference between tigers and regular muskies during the cold water period the DEC decided to allow this special regulation.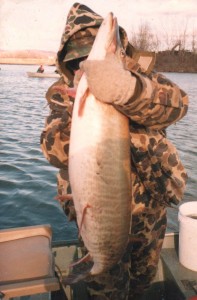 I don't often keep them but I had to get some good pics of this one and tied it on a stringer, ran home for my camera and rounded up a friend to take these pics. I then released it and hope it made it. This is a picture of the biggest one I have ever taken( it was released) which was 49 inches and around 35 #. These monsters are here to spawn and the only reason we get them is because they pick the jigs out of the spawning beds, much like a bass would, and we get them right in the tip of the nose. That and the fact that they are sluggish this time of year is the only reason that we are able to handle these hogs on such light tackle. It sure makes for an exciting day when you actually land on of these U-boats and just adds to the privilege of having such a great fishery right here in my backyard.
5 responses to "Monster Muskies in the Susquehanna"